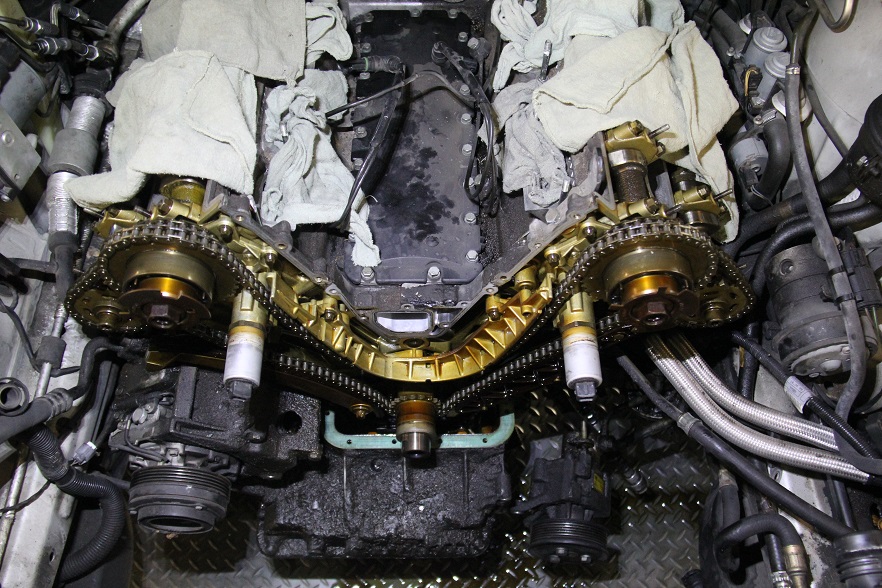 This week we have an interesting project that is worth sharing.
We have a 1999 BMW 540i,  E39 chassis, that had noise from timing chain including fault codes relating to as well.
This timing chain replacement includes all the timing chain guides, tensioners, many gaskets and seals, and cleaning up all around the areas we opened up.
The job included removing the crankshaft collar bolt, also known as the "Jesus Bolt" in the automotive industry. This bolt requires using a very long socket wrench, and a 6 foot long metal pipe to extend the reach. It took all four of us to hold both the Jesus Bolt and the crankshaft as a team. It is a surprise that the socket can withstand so much torque. I am guessing 1000lbs of torque was used to loosen this.
Our shop has begun to see this work becoming more common as these style engines are getting to be 15 years old now with 150,000 miles. Very similar we have seen in the 2003-2005 Range Rover with a very similar engine. The factory service interval in the instrument panel is set to 15,000 miles between your next service. When these engines were new this long time frame may be ok, but after the vehicle is no longer under factory warranty, more consideration should be taking to prolong the length of your vehicle.
We highly recommend a 6 month 6,000 miles oil change interval. The most inexpensive method you can do to prolong your engine life is to keep good oil flowing through. Look at all these small moving parts. They must be well lubricated!